Birdsmouth cutters just added to router cutter range
These cutters may be used to make multi-sided objects, such as boxes, barrels etc.
The two flute bevel cutter creates a notch or "birdsmouth" on one edge of a piece of timber which mates against the square edge of the next piece of timber, offering a larger gluing surface for maximum strength as well as an interlocking joint to aid assembly. Only one side of the workpiece is machined to form the joint.
There are two cutters, one which can be used to produce 8-sided or 12-sided boxes, depending which way up the timber is machined and another which will produce 6-sided b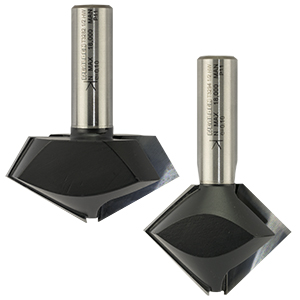 oxes. Both are available to buy online at the Wealden website.