Wilfred Clark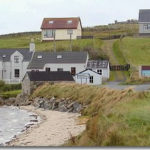 A customer of Wealden for many years, and certainly one of the most northern, Wilfred lives on the island of Yell in the Shetlands. The picture shows a view of the beach from a position virtually at Wilfred's front door.
An enthusiastic amateur woodworker in his spare time, Wilfred works on the car ferry between the islands of Yell, Unst and Fetlar, and rather than show a picture of himself, he sent us a shot of his ferry, Fivla!
Wilfred made this fishing and pleasure boat for a friend in Lerwick. It is made from Gaboon marine ply and fitted with its Honda outboard engine it's a speedy little runabout.
This washstand with a marble top was made as a present for Wilfred's father and is a replica of a traditional design, although this would not usually have the drawer, but would have had a recess for the bowl instead. It is made from American white ash and was stained to match other furniture.
A nice double bed made from American white ash. The photograph shows the bed in a completed state, but before any finishing was applied.
This pair of internal French doors with interesting arched tops are made from steamed beech, which makes the timber very dense grained and hardwearing, although difficult to machine.
A present made for Wilfred's father, this particular clock was in elm with a quartz movement, but Wildfred tells us that he has made several other designs with mechanical movements.
A dresser Wilfred made to his wife's specification in Scottish oak with glazed display cabinets and central open display area. It was such a hit, that he is now making another to a similar design in American elm!