FINE HEIGHT ADJUSTERS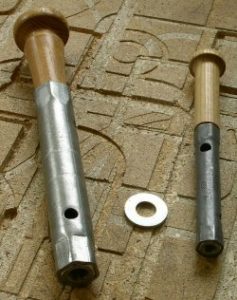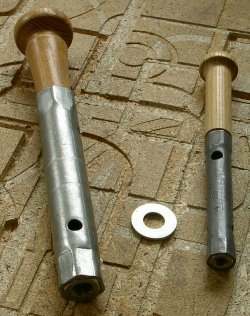 A fine height adjuster is extremely useful, not only for setting depth of cut precisely but also, in certain situations, as a safety device. For example, when cutting dovetails with a standard dovetail jig the depth of cut is critical to the fit of the joint, but it is also a good thing not to inadvertently release the plunge lock and have the cutter try to rise through the guide bush at 24,000rpm.
For some models where a fine height adjuster is not available from the manufacturer, one can be easily made by hammering a Nyloc locking nut into the end of a box spanner. The nut should be of the appropriate size for the studding on the router and the trick is to hammer it into a size smaller box spanner. A length of dowel, broom handle or nicely turned handle completes the home-made adjuster. The nylon locking ring in the nut will help prevent the adjuster working loose in use.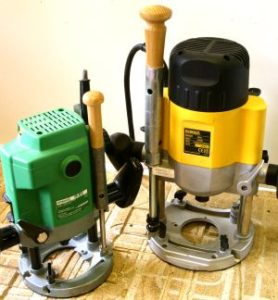 Such devices can be made for the Hitachi range, small and large Festos and Mafells, the large Dewalt and the small Bosch models. The essential requirement is that there should be a length of studding on the router to which to attach the adjuster.
An even simpler method is to just use the Nyloc nut, turning it with the box spanner.