CENTRING/ ALIGNMENT CONE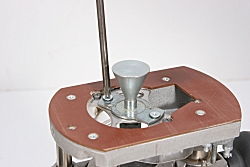 A centring cone is very useful for aligning guide bushes and for checking the concentricity of your router base with the motor spindle. Quite a few routers – not only cheap Far Eastern models – show a lack of concentricity, which arises because the router body and base casting are made separately and assembled without being machined together.
A suitable cone is available from our accessories page. Click here to buy now.