DIFFERENT LENGTH BUSHES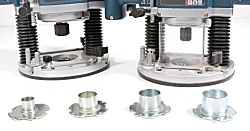 If your guide bushes are longer as the diameter increases, as they are with the Bosch quick-release bushes, you can't use different bushes with the same template unless that template is thick enough for the longest bush.
To overcome this problem, you can turn the ends off the longer bushes until they all match the shortest one. If you haven't the facilities for doing this, you can take them to an engineering workshop (look in Yellow Pages) and get them to do it for you.